Trinity Sunday ~ June 15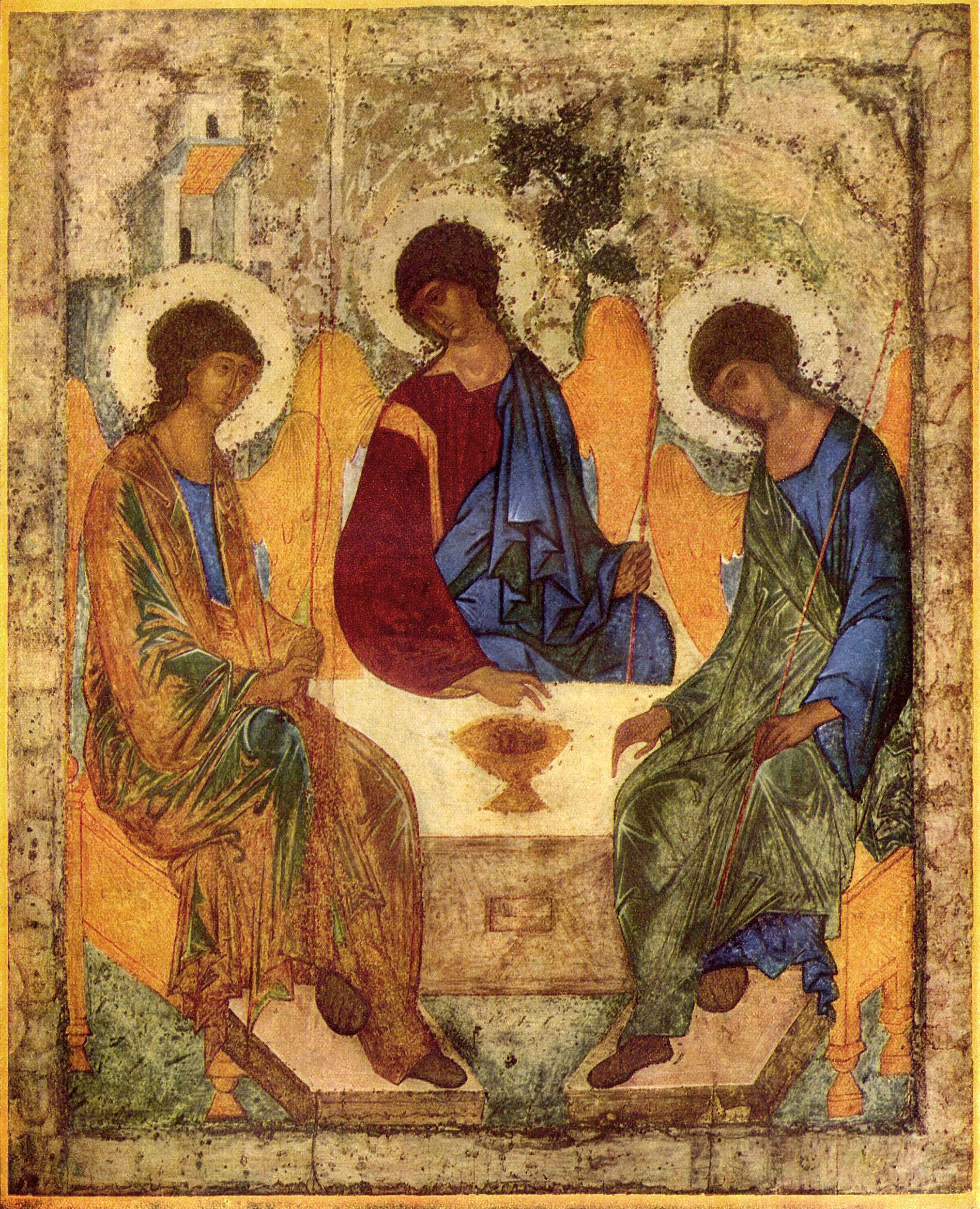 "May the grace of the Lord Jesus Christ, and the love of God, and the fellowship of the Holy Spirit . . . "
Trinity Sunday (Saturday in our case) is an important addition to the Christian Calendar. Unlike Lent, Easter, or Pentecost, Trinity Sunday was added to the Church's celebration much later during the Middle Ages. In the early Church, praying to, and in the name of, the Trinity was so normal that a special day was hardly needed.
Some have suggested that having a day reserved as Trinity Sunday reflects the fact that the teaching of the Church isn't adequately triune. If we need a day to remind us of the fact that God is Trinity, then we need to ask why. This is an important point. Does our faith adequately recognize in our prayer and in our worship, in our teaching and in our study of Scripture, the fact that God is Father, Son, and Holy Spirit?
On the other hand, N.T. Wright provides a unique perspective on Trinity Sunday, especially in light of the events of the church year so far, (the sequence of Christmas, Easter, and Pentecost):
"In the church's year, Trinity Sunday is the day when we stand back from the extraordinary sequence of events that we've been celebrating for the previous five months—Advent, Christmas, Epiphany, Lent, Good Friday, Easter, Ascension, Pentecost—and when we rub the sleep from our eyes and discover what the word 'god' might actually mean. These events function as a sequence of well-aimed hammer-blows which knock at the clay jars of the gods we want, the gods who reinforce our own pride or prejudice, until they fall away and reveal instead a very different god, a dangerous god, a subversive god, a god who comes to us like a blind beggar with wounds in his hands, a god who comes to us in wind and fire, in bread and wine, in flesh and blood: a god who says to us, 'You did not choose me; I chose you.'
To facilitate a deeper appreciation, and fuller comprehension of God as Trinity, Wright provides the following prayer we would all do well to adopt into our own practice of prayer:
Father almighty, maker of heaven and earth:
Set up your kingdom in our midst.
Lord Jesus Christ, Son of the living God:
Have mercy on me, a sinner.

Holy Spirit, breath of the living God:
Renew me and all the world.
When Wheatland gathers, we usually have a small icon of the Trinity, if not our large icon banner, visible during worship. Like all icons, it is not meant to be looked at but looked through, assisting us to catch a glimpse of God's nature. This week's Collect does the same:
Almighty and everlasting God, you have given to us your servants grace, by the confession of a true faith, to acknowledge the glory of the eternal Trinity, and in the power of your divine Majesty to worship the Unity: Keep us steadfast in this faith and worship, and bring us at last to see you in your one and eternal glory, O Father; who with the Son and the Holy Spirit live and reign, one God, for ever and ever. Amen.